To advertise here contact us exclusivly.
Denon DJ recently unveiled SC Live controllers with built-in speakers. Although initially it may seem unnecessary, these controllers make perfect sense for DJs wanting to practice or perform without additional external speakers – especially great if performing in smaller venues!
Design and Build Quality
Denon DJ SC Live 4 and 2 DJ controllers deliver professional and hobby DJs alike an effortless performing experience powered by Engine, the same software used for laptop-free performances at clubs and events worldwide. Both controllers feature an extensive set of features and connectivity options.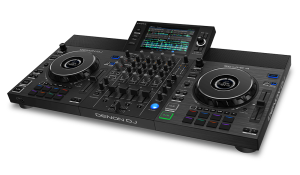 Lighting has become an indispensable aspect of DJing, and both SC Live 4 and 2 controllers feature Engine Lighting software for effortless light show creation. Both controllers also include DMX slots that connect seamlessly with existing DMX systems as well as support for Phillips Hue fixtures for easy integration with other lighting and effects equipment – making these controllers invaluable tools for DJs and performers looking to sync up their effects with music seamlessly.
Not only can the SC Live 4 and 2 offer traditional music playback, they also support Amazon Music streaming with an exclusive chip and Wi-Fi connectivity, enabling DJs to stream tracks in lossless CD quality from Amazon – making these DJ controllers stand out among rival devices such as Pioneer's XDJ-RX3 and XDJ-RR.
Features and Capabilities
The SC Live 4 controllers feature an expansive touchscreen display and rubberized performance pads with a similar layout to Denon Club mixers, providing DJs who are familiar with club mixers an intuitive experience while using these controllers. Furthermore, these controllers come with RGB color control capabilities as well as all the usual FX features found on modern performance pad setups.
Features and Capabilities The SC Live 4 4-Deck Standalone DJ Controller with Built-In Speakers and Wi-Fi connectivity gives DJs full creative control. This club-style all-in-one device features Amazon Music Unlimited integration as a world's first hardware integration solution for DJs to unleash their imaginations.
The high-resolution touchscreen provides moving waveforms, track and library information, music-playback information and rubberized performance pads to create an engaging performance experience for your audience. They include loop, roll, control cue and slicer functions and all standard FX features typically found on similar devices.
SC Live 4 and 2 models feature TIDAL, SoundCloud Go+, Beatport Streaming, and Beatsource Streaming to give DJs access to their streaming content of choice. Furthermore, both models also support Amazon Music Unlimited with special hardware implementation and secure chips for optimal usage.
Engine DJ comes equipped with Engine Lighting software out-of-the-box, giving DJs easy access to automated, beat-synced light shows for songs stored on saved media or streamed from services such as TIDAL and Amazon Music. In addition, DJs have full parameter controls over DMX, Phillips Hue, and Nanoleaf lighting systems that allows them to customize visuals precisely.
Denon's Engine DJ software powers their controllers, enabling DJs to effortlessly load, prepare and perform sets without needing a laptop. Both SC Live 4 and 2 feature professional club layouts for each deck with track waveforms and artwork; an in-jog display that lets you choose how you view the beat grid; as well as performance pads including hot cue, auto loop, manual loop roll slicer loop. 
Both models feature traditional mixer sections with three 3-band full kill EQ sections and thirteen BPM FX options, including four sweep effects to help DJs shape their sound and create dynamic transitions between tracks. Together these features create an unforgettable performance experience for DJs who wish to express their creativity through cutting edge technology while creating engaging performances.
Ease of Use
Both the SC Live 4 and its predecessor, the SC Live 2, feature an intuitive DJ controller which doubles up as an external audio interface for computers running either Serato DJ software or Virtual DJ (an additional license is required). This seamless integration between hardware and software displays moving waveforms on its HD touchscreen display while giving access to all key features.
Both controllers provide as already mentioned can access to Amazon Music Unlimited and other streaming services including Spotify, as well as playing files directly from SD and USB media slots. Which is the lifeblood of any DJ collection. Both also boast outstanding performance features that enable control of Philips HUE or Nanoleaf lighting systems.
These features include hot cue, auto loop, manual loop and roll modes with various FX options, as well as being used to pre-program light shows for DJ sets using saved or streamed music.
The SC Live series provides excellent value, offering professional-grade quality at an entry-level price point. These home setups can be used to host parties, live stream content or practice DJ techniques – perfect for anyone wanting an affordable home system capable of hosting them!
Performance
Denon DJ SC Live 4 and SC Live 2 controllers stand out from other controllers by not requiring a laptop for operation; these standalone devices come equipped with online streaming capabilities and built-in speakers; these standalone devices are powered by Engine DJ software and allow accessing streaming services like TIDAL, Beatport Streaming, SoundCloud Go+, Amazon Music Unlimited as well as downloaded music files stored locally on a hard drive.
These two models utilize a proprietary secure chipset and Wi-Fi connectivity, enabling them to play back CD-quality, lossless audio tracks without uploading them in advance. Furthermore, their real-time music analysis feature allows DJs to perform sets using only those tracks loaded onto their decks.
Serato DJ Pro (included with license), also known as Virtual DJ, allows DJs to take full advantage of both streaming tracks and their music library for maximum creative control when performing. When combined with an SC6000 PRIME media player/mixer in handheld form for maximum mobility – Serato DJ Pro gives them complete creative control in any performance!
Sound Quality
Denon DJ SC Live 4 and SC Live 2 stand out as exceptional standalone DJ controllers due to their high-resolution touch screens, multiple performance pads, and audio interface. While I usually associate Denon with professional DJ equipment (I own several mixers and turntables from them myself), these standalone controllers seem geared more toward serious hobbyist home DJs or livestreamers looking for an engaging performing experience without spending large sums of money on full-featured hardware.
Amazon Music streaming stands out as an attractive feature among DJ hardware. A special chip allows it to quickly scan metadata and access 100 million CD-quality tracks spanning genres for any venue imaginable. Both Live 4 and 2 also support TIDAL, Beatport Streaming, Dropbox SoundCloud Go+ Beatsource Streaming services for even further compatibility.
Value for Money 
Its The Denon DJ SC Live 4 is an innovative standalone solution, providing four-deck freedom and Amazon Music Unlimited integration for an enhanced DJing experience. Access over 100 million CD-quality tracks across all genres plus lightning-fast song analysis for laptop-free performance!
This unit can serve as a standalone controller for Serato DJ and Virtual DJ, supporting 1:1 integration between hardware and software with its HD touchscreen display showing moving waveforms. Furthermore, its multitouch display supports standard gestures for controlling software such as swiping and pinching to access core functionality.
Denon's DJ SC Live 4 and SC Live 2 models are specifically tailored to meet the needs of serious home DJs, live streamers, or those searching for an affordable piece of DJ gear to use in living rooms. Both units do not provide inputs for external turntables or CD players but come equipped with an audio interface capable of directly connecting headphones or speakers.
Denon DJ stands out as an innovator, often preferred by mobile/event/wedding DJs; their Prime series provides cost-cutting solutions while meeting performance needs with high performance standards.