To advertise here contact us exclusively.
First came DJ flight cases, perfect for carrying and then using your DJ equipment, where ever you needed. But DJ's are known to push the limits, and the DJ coffin is no exception to the rule. Built to house not only turntables, but also a mixer, and offer a stand for a laptop, it's called a coffin for a reason. They are sometimes known as road cases officially, but very few DJ's really use that name.
A DJ coffin is perfect if you're a mobile DJ, as you have to carry your equipment from venue to venue in the easiest way, and there is no easier way than this. If you're a club or venue owner, you might be under pressure to provide a quality setup for your DJ's, and using a DJ coffin is a great way to provide them with the setup they need, without having to build any custom housing.
There are a few DJ coffin manufacturers, but they aren't a mainstream product, mainly due to their niche use. Odyssey is the company known to specialize in cases for every type of turntable. They also have lots of stands, and audio accessories, but they are known for creating quality DJ coffin cases now. They do have quite a large selection, but this is a roundup of the best 3 DJ coffins from Odyssey.
Odyssey FZGS12CDJW CD DJ Coffin Case
The first DJ coffin is for those old school (can you really call it that) CD DJ's. The FZGS12CDJW is able to hold 2 large format tabletop CD players easily, as well as a mixer, and laptop, just so you can also add your MP3 music collection in with your discs too. The dimensions for each are, width: 12.75" height: 3.25" depth 14".
There is a mixer slot that will house any type of mixer up to a 12" in size. The dimensions for the mixer slot is width: 12.5" height: 3.25" depth 14.75". There is also a 3" compartment at the rear to allow you to place your cables along.
The case itself is well designed. Exactly what you would expect from Odyssey, and comes with rugged built in wheels to make it easy to carry your coffin in and out of venues. The latches that hold the coffin together are heavy duty spring loaded, so even during bumy transport and lifting, you can be sure that nothing is going to come loose.
The slide tray on the top for your laptop is positioned well, but it can be quite stiff, and quite rightly so. You don't want it moving during a performance, so when you set it up, ensure you test the positioning is ok for you.
Odyssey FZGSBM12W Vinyl DJ Coffin Case
This is the DJ coffin you need if you're a vinyl turntable DJ. It comes designed with padded cushioning, perfect to keep your turntables fitted tightly to ensure no jerky movements. The coffin, once in battle position will give you easy access to everything in front of you, including the mixer, and also a laptop, if you're going to use that. If you don't use a laptop, you can also use it without any issues too.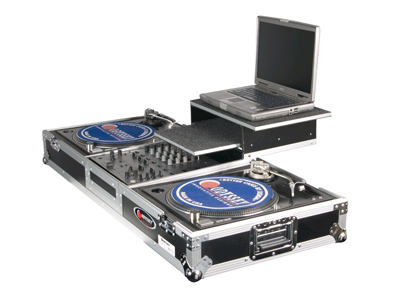 Even though this DJ coffin is really designed for vinyl, you will be able to use it for controllers with a bit of modification. As usual, you should check your sizes first, and the mixer section measures width: 12.5" depth: 21.5" and height: 3.25". The turntable wells measure: width 15" depth: 18" height: 3.25"
It has built in rugged wheels, along with stackable ball corners, and all the latches and joints are designed strongly to handle all the rough and tough that you might put it through.
Odyssey DJ Coffin Case for the Pioneer DDJ Controllers
This is the DJ coffin you need if you have any of the following controllers:
DDJ-SX
DDJ-S1
DDJ-T1
It has a high quality beveled foam interior, protecting every aspect of your controller, and with the glide style laptop platform, you have easy access to your music, and more in depth administration tasks easily, keeping everything you need in easy reach. It has a very stylish V-cut on the front of the coffin which allows you access to the front of your controller panel. The construction of this coffin is solid, with heavy duty ball corners, and recessed handles and latches.
The measurements for the well are, width: 32" depth: 18.75" and height: 8.75". The approximate weight is 34 lb, so although quite heavy, exactly what you need if you want to protect your equipment correctly.
Whatever DJ coffin you choose, you can be guaranteed that it's going to last you a lifetime if you take care of it. You might change and trade your equipment, but your case will stay with you, and save you from any last minute embarrassment when carrying equipment into venues. Make this part of your DJ shopping list.