To advertise here contact us exclusively.
If you need a DJ controller that comes with a LCD screen, and is available to buy on a budget, then you should be looking at the Stanton SCS 4DJ. It is a complete controller system, which means you don't need any computer to mix with. As well as being fast and easy to setup, even if you're a beginner, and you want a controller that will be easy to use, and allow you to be as creative as possible, then this will do the job.
If this controller doesn't need a computer, then how do you load your music on it, you might ask. If you have an external storage device, such as a hard drive or phone, then all you do is plug it into the USB slot, and the controller will detect the tracks and music on the device. This means it is incredibly portable, and easy to carry your controller and device to a music gig. The days of carrying large turntable coffins are gone.
Once you have the controller connected with your tracks, you have the ability to manage your playlist through the LCD screen panel. This gives you the ability to have an almost instantaneous startup time to your music mixing. The visual feedback that you receive from this controller will keep you on your musical toes. The SCS 4DJ will analyze the tracks that you load in, and calculate a beat grid that means matching your mixes, and ensuring you keep the crowd happy is easy. It also allows you to create effects and loops, and have them all synchronized in real time. It will take a bit of practise with this controller, but after a few hours, you will feel like a master DJ.
The dual decks are 4.75" in size, and are responsive touch sensitive, as well as being naturally weighted, they have a great zinc texture that allows them to feel robust. There is lots of extras included for the platters including full transport control, which means you can pause, stop, and play at the touch of a button. You can also use the platters in traditional scratch mode, which means this controller is a great choice for those that like to play hip hop music.
There is a pitch slider for each deck too, and it is a 60mm size, which means you can have super accurate control of the tempo for your tracks while you create your mixes. There is a unique DSP key lock function which allows you to keep the pitch of the song consistent, while you change the tempo. This is great for seamless mixes, and allowing your creative juice to really flow through to your sound.
The mixer section of the controller contains a three band equalizer for both channels, as well as individual cue controls. There is also cross fader curves, a channel gain, and also microphone gain, if you really want to engage with the crowd as you mix. There are some unique features to this controller, including the time rift, which allows you to scratch, seek and use hot cues, and then return to synchronized playback instantaneously. This is a really nice feature to help build your ability at adding creative effects, and changes to your mix, while giving you the backup to return straight to your music right away. Professional DJ's might not need this requirement, but they will still enjoy the ability of tight mixing that the time right gives them.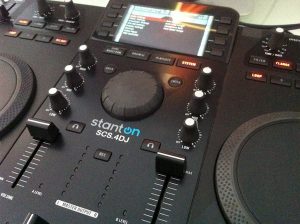 There are some other nice extras that you get with this controller too. There is quickgrid, which is a software program compatible with Apple Mac and PC, and prepares your USB drive with the best matching beats that you will need for a good show. It's a good way to prepare your set, and pick out the kind of tracks that will be best suited to your show, without having to blindly search through your library. As well as allowing for USB input, you can also output your mixes back out to a USB device, thanks to the 4 USB ports available. You can then post your mix on music sharing sites such as soundcloud.
This controller is a budget controller, but if you need to learn more than just the basics of DJing, and progress to an intermediate level, then you will be able to sound like a real professional DJ with the help of the Stanton SCS 4DJ.