To advertise here contact us exclusivly.
There are a few great controllers on the market for dj's who want to really take their mixing to the next level. Although they might be top of the range, they can still be great for beginners who really have professionalism turntablism in mind. For the experienced DJ's these controllers mark a shift in the DJ's ability to be as creative as they want with their mixing and music sets.
Native Instruments Traktor Kontrol S4 MK2 DJ Controller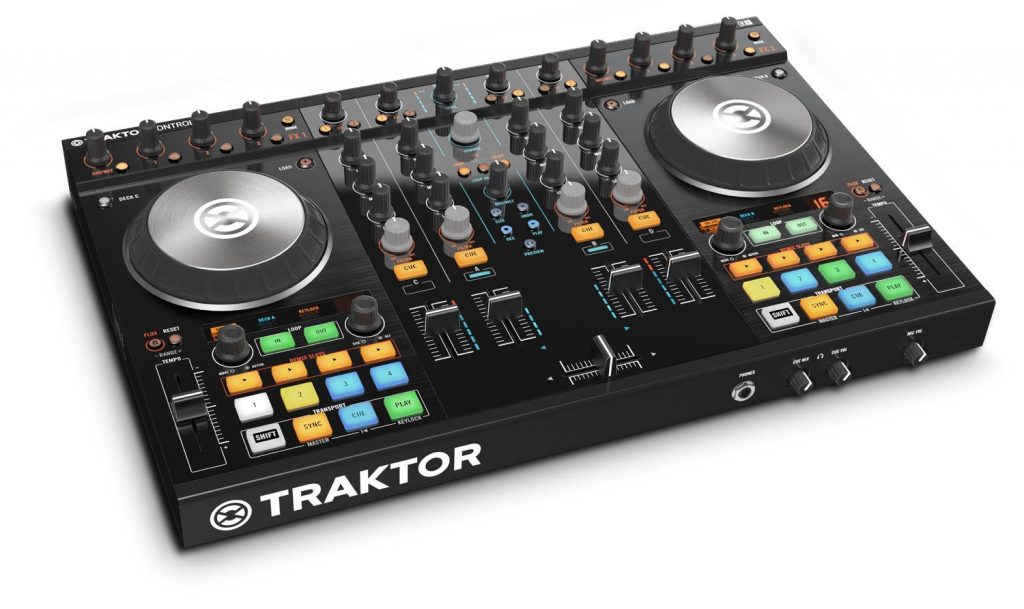 The Traktor Kontrol S4 comes bundled with Traktor Pro 2 software, which gives this controller an edge over its more expensive rivals. You can mix your existing & favourite tracks with the remix decks feature, which allows you to mix easily even during a live performance. You can also download pre-mixed ready made remix sets from the Traktor website. All made from some of the most famous names in the DJ music business.
With the Traktor Kontrol S4 turntable, it's easy to get started djing straight out of the box. There is a premium 4 channel mixer, with built in soundcard. The stats for the soundcard are 24 bit /96khz. It has an easy to use interface for the type of usability that you would expect for the price. There are 8 color coded loop and sample buttons, which are easy to reach.
There are loops and sounds included to get you started on your creative mixing right away. There are 40 loops, and 10 full tracks with everything from:
drums
bass
percussion
synth
dubstep
house
trance
techno
There are 2 independent FX units with more than 30 effects included such as delay, reverb, and flanger. To more complex effects such as the beat slicer to the custom Traktor beatmasher. There is a four channel mixer included which is built with 3-band EQ's and a filter control for each channel. You can switch between styles with the filter including Traktor and Xone.
The loop recorder is also one of the best features on the controller. You can record loops on the fly from any of the channels you are using, as well as capture audio inputs such as instruments, and microphones, as well as the output itself. You can then layer, and even overdub the loops on top of one another to build your own live mixes. You can easily transfer your loop to the remix deck slot, freeing up your loop recorder to find another loop and keep building your mix.

Numark NS7FX Professional DJ controller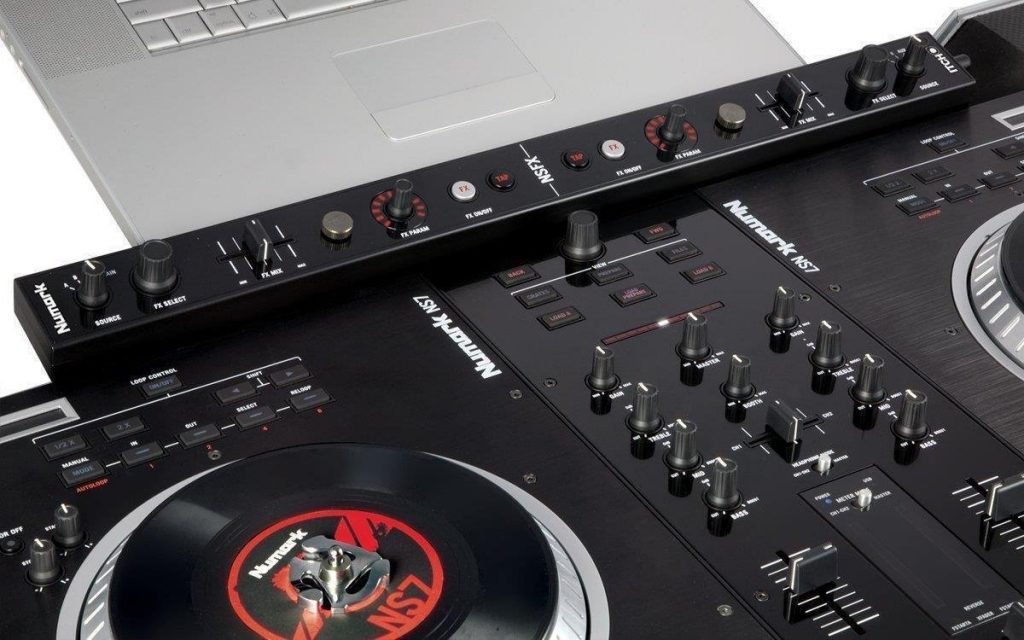 The Numark NS7FX is a turntable controller that is built to perform. It has a rugged metal Chassis, and motorized platters. This means its the ideal choice for DJ's who are always on the move. The platters are true 7 inch vinyl tops, you will find this controller an easy cross to, if you are already experienced with vinyl mixing. There is a resolution of 3,600 ticks with these aluminium platters. You can very quickly navigate to different sections of a song with the strip search song navigation feature.
The software that the Numark NS7 comes bundled with is called Serato ITCH. Its like an upgrade to the Serato Scratch LIVES system, and best of all it doesn't require a timecode interface. You can load your crates, loops, cues and presets from the previous version whenever you want. ITCH is a sophisticated interface and handles the audio processing and mixing including channel fading, EQ, and also crossfading along with track trim.
ITCH has a library of management tools for advanced sampling, and mixing of your tracks, and supports AIFF, WAV, MP3 and also AAC audio files. All this and also backup and restoration of your music too. You can export your playlist history too, and withe the loop roll function you can create any number of looping effects.
To connect your laptop to the controller there is a 24bit USB digital audio interface, on the Numark NS7FX which is 10 times the speed of the standard MIDI interface. The strip search song feature already mentioned is like a virtual needle drop. It allows you to locate a point instantly. There are 5 hot cue buttons, to mark cue points on your tracks. You can also recall these cue points through the ITCH software.
There is extensive loop functionality included, with a variety of functions that include manual and auto loop functions, with an automatic BPM analyzer. You can double your loop length, as well as halve it, as well as use multiple loop banks. There is a zero point LED too, for when your beat matching, and need to know when you're exactly in the middle.

Pioneer Pro DDJ-SX2 DJ Controller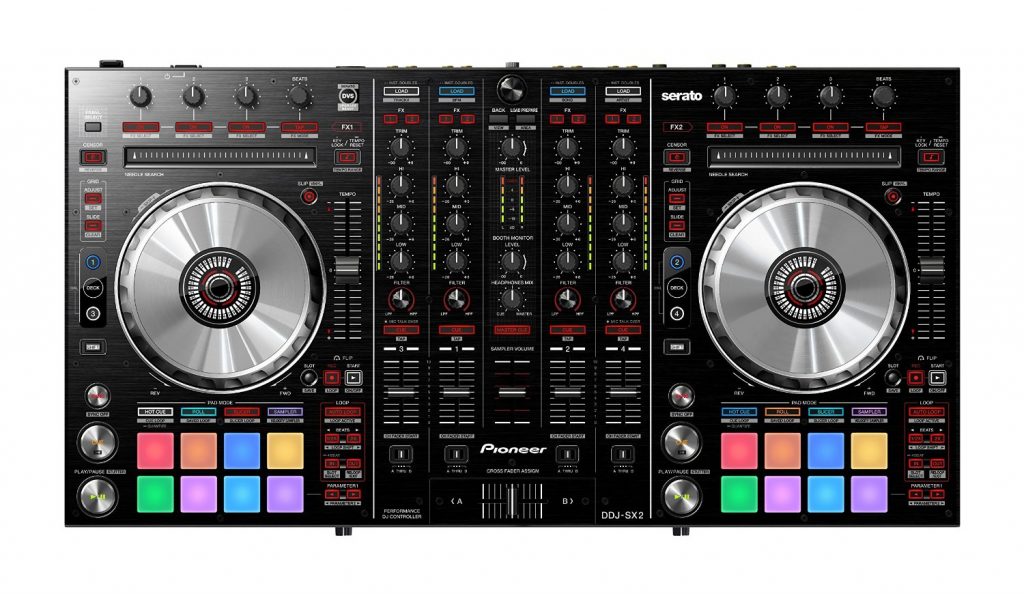 The Pioneer Pro DDJ SX2 is one of the most expensive turntable controllers out there, but it does come packed to the max with features. It works with Serato's new Serato flip functions. This is an expansion pack for the Serato DJ software that allows you to record, and replay hot cue sequences on the fly while you're working. The way it works is by allowing you to record yourself triggering the cues from the performance pads. There are a total of 8 performance pads. You can make upto 6 recordings in the slots available.
The 8 performance pads on the Pioneer Pro SX2 offer the functions including Hot Cue, Roll, Slicer, and Sampler functionality. The velocity sampler mode means that when the button is pressed, the strength of the button press is responded to, and the output level changes.
There is a high accuracy of the jog wheels allowing you to scratch and mix with the highest accuracy. There is also a unique feature called the Hot Cue Countdown, which means you can see the time remaining until you reach your cue point on the JOG Display.
You can connect upto 4 external devices as inputs such as a CD player, analog turntables (if you want to just use the controller as a mixer) and microphones too. There are also 2 master outputs available.