To advertise here contact us exclusively.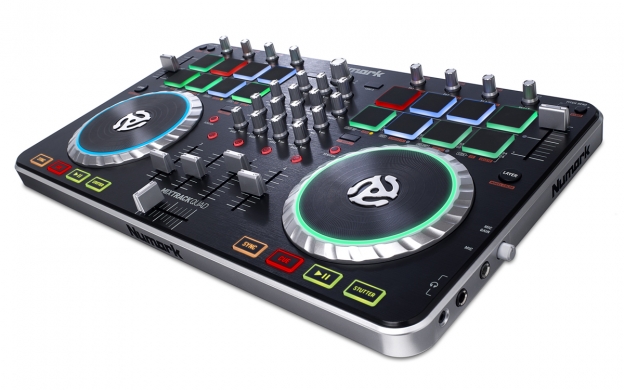 The Numark mixtrack quad is a 4 channel DJ controller that is one of the best entry level turntable controllers to get started with. It's especially perfect if you want to be able to mix your tracks, and get access to some of the features reserved for more expensive turntable controllers. This is a dynamic controller able to respond to whatever DJ needs you might have.
The 4 channels include the bass, the mid tones, and the treble, and all of them are are easily adjustable with the dials, as well as volume controls that are mounted on sliders.
You want to create loops? You go it. The numark quad has 16 illuminated rubber drum buttons that stand out thanks to their bright colors. Thats 8 for each side, that you can use to create a loop, and control hot cues. There are color coded signal transitions when you're loading a track or moving between different modes and configurations. Its easy to just manipulate the flanger, phaser the echo, and more.
As well as the color coded drum pads, there is the color assignable dual zone platters which you can color customize to whatever you want. Right next to the platters you have the scratch button too, so if you want to cut any scratches in your mix, you'll find this more than easy especially with the responsive platters, which also allow you to control the pitch from the side of the platter. This is another feature that gives your creativity to the type of mixes you do only controlled by your imagination.
There is a precise crossfader built into the Numark quad controller, which lets you fade in and out from either of the turntables depending which one your music is loaded in, as it all works with 4 deck Virtual DJ LE meaning you can mix as if you had 4 decks with the help of your laptop. This is great when you want to pre-cue a couple of extra tracks while you're working on your mixing, and all it takes is a simple click. The Mixtrack Quad operates via standard MIDI, so it will work with other mixing software too such as Serato.
The Numark Mixtrack Quad is a real turntable controller for a pro DJ, or even if your just starting out and want to perform at parties, and clubs. You can easily upgrade the Virtual DJ LE software to the more comprehensive Virtual DJ which gives you access to even more effects and more deck controls too.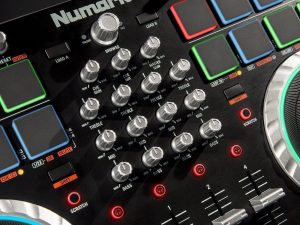 Its easy to get started with the Mixtrack Quad, you just plug it into your laptop via the USB connection, and there are no drivers so it really is just plug & play. The audio connections will work with phono plugs and RCA Style connection points. It also syncs easily with your itunes collection if you're using Virtual DJ LE.
The controller is plastic, and yet has a sturdy design that means you can rest it on your table, and it will hold its own while you're mixing your performance. There are headphones, and a microphone audio slots too so, if you want to announce any shoutouts during your performance, then you can easily do this too.
Overall the Numark Mixtrack Quad is a very good DJ controller, and the perfect one to get started with as your DJ career begins.