To advertise here contact us exclusivly.
When you need a top of the range DJ controller that allow you to DJ with or without a laptop, then the MCX8000 is certainly a good choice for any veteran. With two hi definition display screens, and Denon DJ's revolutionary standalone engine 1.5 software, and also Serato DJ operation.
If you enjoy using Serato DJ, then you'll love the tight integration with the MCX8000. It feels like they were built for each other. If you're after the mixer size under the hood, it's a 24-bit 4 channel mixer, which will make your mixing sounds limitless.
You don't need a laptop with this DJ controller, it will happily work with your phone or MP3 player, or even your thumb drive or hard drive. Take your show on the road with the minimum amount of extras. Long gone are the days the DJ would carry his music in crates, now we carry it in our pocket. The two LCD display screens will give you all the timing info you need for your smooth mixing, and track looping. The title of each song is displayed at the top, with the BPM and time remaining.
If you load your tracks in using the Denon Engine software on your PC, then when the tracks are loaded into the controller, you'll find that the waveforms are all automatically generated, and accurate. The built in effects from Engine include the echo phaser, and noise. Echo and phaser have a time element attached to them., as well as each of them having a wet dry mix.
Almost a hidden feature of this DJ controller is the needle drop touch bar, that is just below the LCD panel, and allows you to jump to different locations in the track quickly. This is just what we expect to see on a controller for this price, although, we have seen some without too, so beware when buying, this is a must have component to mixing nowadays.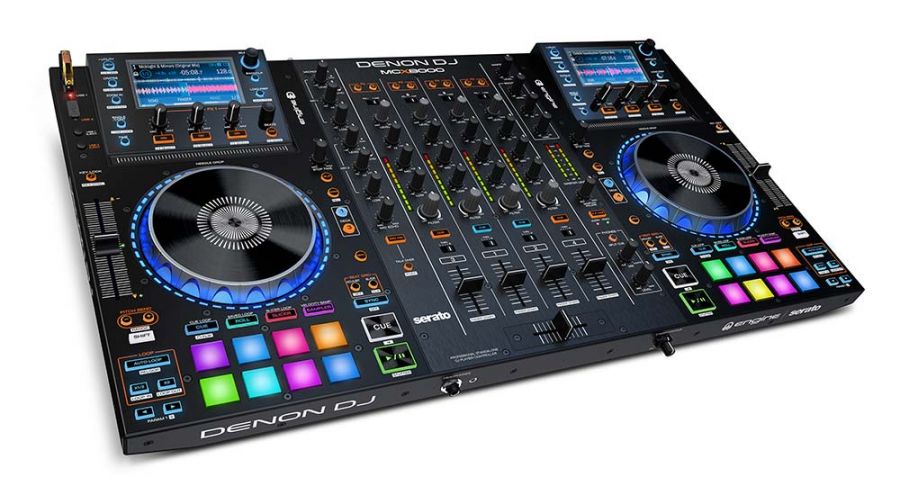 The jog wheel is a good size and feels solid to touch and move, it has no lateral movement, so you can expect your mixing to be very tight. There is a nice long tempo slider which is adjustable with pitch. The controller also comes with some unique features, such as slip vinyl mode, and a sensor button, which is great to censor out any bad language you might come across.
On the base of the unit we have the eight backlit RGB pads, either side. They are great for all the usual functions including cueing, slicing, and rolling. If you are using Serato, then you have the option to use even more allowing you to move through the track to your various cue points, quickly and easily.
You do get a full copy of Serato DJ with the unit, so that's a bonus. If you connect the unit to a PC, then the controller will automatically detect this and switch the screen to match. There are two USB slots on the front, as well as a larger one on the back, and a USB B if your using Serato.
The mixer will happily accept input from an outside source, including a CD player, or a turntable. The controller is DVS ready so this means you can just purchase the Serato DJ upgrade, so you can use control vinyl on turntables. There is also a sweepable filter with a high pass and low pass filtering.
There is also an assignable crossfader that you can also swap out for an innovator mini if you like to show off your turntablism tricks. The headphone outputs come in two shapes, the normal large jack, and the regular headphone jack. Perfect for that backup. There are two microphone inputs which is really handy.
What's more this unit has a ethernet port on the back, which is planned will be used for controlling lighting, effects, and even pyrotechnics, from the unit. Overall this is a great piece of kit, and one that is solid enough, will last you a few years.