To advertise here contact us exclusivly.
Do you think you'll enjoy mixing up and twisting different types of music? Making the crowd hyped up by your own taste of music? Maybe being a disc jockey is for you. You'll get to do all of this! Sounds fun, right? But it doesn't just happen in one night. You need to make it happen. Here are a few steps on how to do so:
1. Knowing what your preferred DJ style is.
There are five types of DJs that you can choose from. They work on different styles and different purposes. Here are the five types of DJs: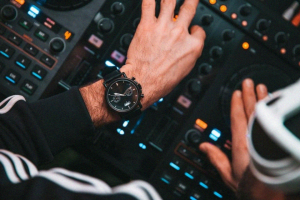 The Club DJ
Club DJs are those who often host at various events and venues that need music to keep their feet moving. They usually play other people's music. Established DJs typically have a few residencies where they stay regularly. A nightclub DJ's goal is to keep the audience moving and dancing. They should also know when the energy is up and down, and how to keep it balanced all the time. If you are already a big-time DJ, you can book out-of-state gigs in cities like Miami, Las Vegas, New York, or Los Angeles.
The Radio DJ
This is actually the origin of the DJs. If you are part of a radio station as a DJ, it's either you are the host, mixer, or part of the programming staff. Due to the number of radio stations, being a Radio DJ is quite competitive. Radio DJs have different duties. They can be a host of a podcast, on satellite radios, announcers in between songs, or full-on music curation.
If you want to be a radio DJ, you should be able to give insights and stay updated on the most popular music or songs now and then to please the crowd. At least know the Top 40 tracks at the moment.
Music Producer
A music producer and a DJ are different. But they can be the same person. It may sound confusing but here's how: producers create the music that DJs play. They do it by putting together different sounds, instruments, and beats electronically. But producers can also be the one to change or remix a music track like a DJ.
The Mobile DJ
Mobile DJs are the one who plays at a wedding party, corporate event, school events like prom, and other social gatherings. They need to set up the tone of those events. In some cases, they are the ones responsible for setup and tear down of equipment, planning of the event flow, managing the crowd, and making announcements.
As a mobile DJ, they should know how to engage and communicate with other people. Rapport is important since they might need to make announcements, take requests, and communicate to take gigs.
The Turntablist
Turntablists are also known as scratch DJs or controllerists. They typically perform live remixes with turntables, speakers, headphones, and other special effects. They show raw skills, astounding tricks, and smooth transitions. They are also known to be exhibitionists.
2. Gathering Equipment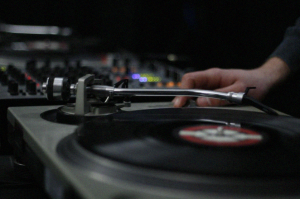 To officially start your DJ career, you need to gather equipment. As you progress, you can invest in bigger and better equipment. But for starters, here's a list of bare-bones basic equipment for starter DJs:
Two turntables or CD players
Turntables are used to spin records at a constant speed and to reproduce sound by a needle. CD players play audio compact discs.
Two-channel mixers
Channel mixers typically control analog and/or digital signals, The signals are combined and they produce the output signal, which can be broadcasted, amplified by a sound system, or recorded.
Speakers
Speakers are used to be the producer of the output that the listeners would hear.
Headphones
Headphones promote privacy to the user and the people around the user. It exclusively lets the user hear what it produces.
Mixing software
Mixing software is a special type of computer software used to play, mix, and present various media. This can be used for gigs, recording, on stations/channels, or live performances.
3. Consider getting Software
To further enhance your skill, you should consider doing this. There is three major software that you can consider:
Rekordbox
This is FREE. Pioneer allows you to prep your library, export music to USB, or just play from a laptop using Rekordbox DJ. Just make sure you have compatible hardware.
Serato DJ Pro
Aside from being one of the most popular DJ software, Serato offers a new Practice Mode for you to freely DJ without any hardware connected.
Traktor Pro
This is a Native Instruments software that offers great features for hip hop and EDM DJs. The cost is $99.00 but a free demo is available.
Remember, using the software is a matter of preference. So if you don't want any of the three, you can look for other software that may work best for you.
4. Familiarize with Basic DJ Skills
Now, you should learn the basic skills that a DJ should acquire. They are comprised of:
Phasing
Phasing is about mixing your tracks at a point in the song which they make sense. It's best to know how to recognize music with a 4/4 beat.
Beatmatching
The main purpose of beatmatching is to mix two tracks on the same tempo (speed or pace) and phase (beats of both tracks). Although nowadays, technology has made this easier with sync functionality. It's still good to learn beatmatching manually to train your ear and familiarize yourself with beatmatching. Practicing this can help you boost your confidence while performing.
EQing
Equalizing is the act of cutting or boosting frequencies so that audio tracks will blend nicely. Mixers can either have three-band EQ (low, mid, high) or four-band EQ (low, low-mid, mid-high, high). The main purpose of EQing is to smoothen out the mix of two or more audio tracks.
Gain Control
A DJ rig contains different levels of volume adjustment. Each channel has a gain knob and a line fader. To fade between one channel to another, there's what we call a "crossfader". But some DJ software has auto-gain functionality to help ease the amount of volume adjustment.
To avoid complications, you can just adjust the volume on the amplifier or speaker side.
5. Recording a Mix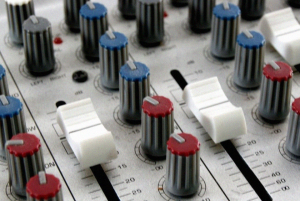 After a few practices and tryouts, you might want to consider recording yourself to hear what you sound like. The easiest way to record yourself is by using your laptop and DJ mixing software. It's just one click away. You could also use an external recording device then you can connect your mixer or controller's output ports by using an adapter cable. You can also use the DIM-REC app to easily record your mixes using your iPad and/or iPhone as long as you have a compatible Pioneer mixer.
As you first try recording, don't be afraid to make mistakes. It's the best time to experiment and explore what you have and what you want to produce. Listen to your record after a few days and point out your flaws. Correct them and let yourself learn more.
6. Building your Personality
This is where you start building your identity and gaining supporters. Show them what you got and show them your worth. You can do this by publishing and sharing some of your mixes to the public. DJs are for the crowd. Don't be afraid to show your skills.
You should also make your presence in the online world noticed. Let's say that you can start by creating at least two social media accounts. Make sure to complete essential information and link your mixes to your account. After a while, you should create a page or domain to fully promote your brand.
To promote your social media more, make sure to have consistency. Post records regularly. Engage with others for them to know you more. Give them a bit of you by sharing your preferred music and stories related to your career. Also, give them what you want to have. For them to appreciate you, you must appreciate them too.
7. Having your First Gig
After establishing yourself, go out and do gigs! This is what your journey is all about. You can start from house parties or asking local DJs to be their "warm-up" before their performance. Some clubs book for local DJs but without fees. That will do too because you'll gain experience and more people will know you.
Don't forget to do your best in your performance. You can also give business cards to those who acknowledge you to promote easier.
8. Enhance your Skills
DJing doesn't easily stop at gigs. Being good enough is never good enough. Continue honing your craft. Learn more. Explore different styles. Master your skills and go for bigger heights!