To advertise here contact us exclusively.
Numark has maintained an excellent reputation over the past few years by providing high-quality music controllers to the music industry. The Numark Mixtrack Pro DJ Controller with Integrated Audio Interface can be considered as the latest addition to their product lineup. This DJ controller has an expanded layout of professional controls and a streamlined design.
The touch-activated platters and 16 backlit multifunction drum pads are prominent features of this controller. Any DJ can purchase this controller without thinking twice because there is everything included that you need to start producing tracks straight out of the box. It has professional DJ software, a great DJ audio interface, effect controls, looping and hot cues.
The Mixtrack Pro DJ Controller gives the DJ a dynamic and creative experience. You can control hot cues, launch samples and create loops with the help of the backlit rubber drum pads. This controller can switch between sample mood, loop mood, and cue mode within seconds. This makes it great for mixing different tracks, and means your dance music mixing will sound like it's Tiesto playing. You will need a pair of headphones, and I would personally recommend Beats by Dr Dre.
Touch Sensitive Control Wheels
Includes Advanced DJ Mixing Software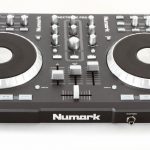 This design is designed to be played with a dedicated music library, so it can easily work with a laptop or your ipod, Itunes or google play account. There is a precise crossfade, a three-band equalizer and a complete mixer section. These controls allow you to interact more with music than focusing your attention on the computer screen. The sync and pitch controls are onboard, which provide an easy, seamless mixing to you. You can add and manipulate echo, phaser, flanger and many more things with less hassle through the 16 dedicated effect controls.
The hot wheel of Numark Mixtrack Pro DJ Controller is built to be one of the most responsive on the market. You can use this wheel to get precise control over all the tracks. This wheel's dual zone and capacitive features will assist you to stop or scratch a track with a simple touch on top of the platter. You can also use it to control the pitch according to the way you want by manipulating the platter from inside.
The Numark Mixtrack Pro DJ Controller with Integrated Audio Interface comes with dj software called Serato. It is a user friendly application that can assist you to start your mixing right away. The plug and play technology will keep you away from the technical hassle. All you need to do is to connect your speakers and laptop to the Mixtrack Pro DJ Controller, and you can get the party and music started.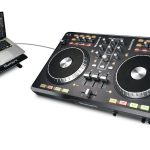 You can easily make groundbreaking waveforms through scratch and beat match music forms by adding files from the laptop. The loops and cue points help you to mark, repeat and access different parts of a music track. You can use this feature to be an outstanding DJ through creativity. The wide range of professional effects also provides an ideal platform for your creativity.
You don't need to be a professional DJ to use Numark Mixtrack Pro DJ Controller. its easy to understand the controls, and you can enjoy professional mixing in your home. Once you've picked up the basics of being a DJ, you can perform live at functions, parties and clubs. This DJ controller is also compatible with almost all the virtual DJ applications as it operates via the standard MIDI port. If you are looking for a user friendly DJ controller to mix professional music, this is the ideal turntable for to you.