To advertise here contact us exclusivly.
Which DJ software should you choose to buy in 2014? Here is a run down on what are the most popular products that any cat could sharpen their scratches with.
"The Best things in life are free" – Luther Vandross & Janet Jackson
Your first step into DJ software
I would recommend starting off with software such as mixxx.org which is free, works on windows platform, and has an excellent range of features that you would more likely find in more expensive software. (you can donate if you find it useful) The point is that to start with you should really start here, its a good introduction to what are the fundamentals you can expect to always need with your DJ software.
First time saving feature is their itunes integration, and as soon as your library is loaded up, you can access the typical 2 decks on screen. mixxx gives you also 4 sampling decks too. The starting blocks you will want are beat looping, time stretching, and vinyl emulation. You can set 4 auto hot cue points, to give you easy and fast remix skills.
Everything you want to plug into mixxx is possible. You can stream live shoutcast broadcasts easily, and just as simply record to your local hard disk. Any controllers you have purchased in the last few years are supported, with most of the main brands Hercules, Numark, Pioneer, and Stanton as well as many more.
Has DJ software finally come of age?
Even your granny is a DJ
Originally when many digital products hit the music market, people thought that DJ's would be able to just put their feet or paws up, and just sit back and be a world famous DJ with your playlist on your ipod. Lets get this straight from the start, all of these pieces of software are meant to help you work at making better beats with your existing expertise and equipment.
"I've got a brand new combine harvester" – The Wurzels
Next up in the ring, is Traktor Pro 2.
Traktor has become one of the host selling brands in DJ equipment, and this is a combination of both their hardware and software skills to combine what is now a well known software package, with Traktor scratch A10, that fits alongside the main software ever so nicely.
Traktor software is used by such notable DJ's as Grandmaster Flash, and Carl Cox. If your looking at local club gigs, or even karaokes and rocking the neighborhood parties, then the full version of Traktor Pro is what you need. The scratch software is really finely tuned to the DJ who is working with vinyls or cd, and has skills at mixing and scratching.
Traktor software will obviously work well with any of their equipment too, and you can get some especially good deals online, with the release of the Kontrol S4 and S2. Complete digital DJ'ing at its best.
"Under my thumb" – The Rolling Stones
Doctor Doctor! is there a DJ in the house?
If your out an about, and maybe you don't have your turntables & vinyl collection in your back-pocket, well here is the next best thing. Its DJ studio 5 for the android. Its a free app, and although its not meant to replace your favorite DJ software, it is a very simple way to turn your phone or tablet into a set of decks. You might think i'm joking showing you this alongside the previous 2 packages, however DJ Studio 5 gives you something different from the other two, and that's speed.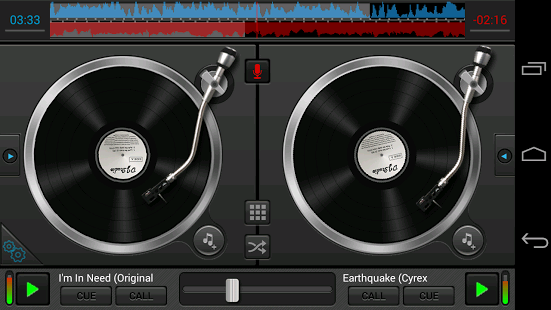 Its a great way to just pull a couple of tracks from your library, and try a new part of a mix on them. If it has potential then you can save it, and expand on it, once you get back to your main equipment. I've even started a soul funk set by using an idea I found while playing this app on the subway.