To advertise here contact us exclusivly.
The Cortex HDTT-5000 is what you need if you're looking for a digital turntable that is independent of a laptop, and can use your digital storage device such as your mp3 player. You can also attach a cd drive or even a portable hard drive with all your music tracks on it too.
This Cortex model contains an internal DSP effects CPU. This provides a delay, filter, and panning as well as other effects for any DJ using this machine.There is seamless audio looping, as well as pitch control, and a scratch wheel. There is a large visual display to see exactly what tracks you are playing. Its easy to hook your USB storage device or your flash drive upto, and start pumping out the tracks. Apple ipod is not supported which is probably the only downside you will find with the Cortex HDTT-5000.
You can access all you need with the HDTT-5000 to create really good mixes. You can cue, play and loop your music easily with the touch of a button. Its easy to find a track on your device as the Cortex uses intelligent music database management system to find any of your tracks. This includes mp3 files and also wav files too, and all with lightening fast speed. You can search by artist name title of song, and even genre, and phrases, and it does only take a second to find them. The best way the HDTT-5000 is played is with another unit, which is easy to set up as they have daisy chain feature.
To help with the navigation you can just connect a usb keyboard to the device, and this allows you to search for your tracks quicker than you would be able to on your device. You can also select the file explorer mode which allows you to browse through your tracks if you already have an organizational structure in place on your music device.
You can connect a compatible CD or DVD drive to the HDTT-5000 digital turntable too This means that you can also use your cd collection to DJ from, and get access to mp3's you also backup on your DVD disks. Just plug a compatible disk drive into one of the usb slots.
The Cortex HDTT-5000 includes a variable pitch slider, which gives you ultra precise pitch control on your mixes. This gives you the ability to include your pitch in increments of 0.05% (in both 4 and 8 pitch modes). There is also what is called performance protection on the unit. This stops you accidently turning the machine off while you are using it. You need to hold the power off button for more than 2 seconds to turn it off completely. You can also upgrade the firmware of the unit, by easily connecting it to your pc or laptop and downloading drivers direct from the manufacturer website. The HDTT-5000 turntable can handle mp3 file format upto 320kbs.
There is even multiple language support with French & Spanish being supported alongside English. You can also create really accurate mixes with the cue to start feature that gives you a mix with no delay, and ultra fast instant start times. You have the ability to sample too, as there are 4 banks that you can access with the touch of a button. You can also then trim and edit the samples with the help of the graphical user interface, along with the pitch of the sample.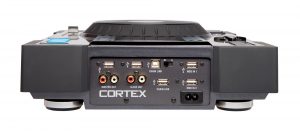 You have access to 12 effects to also add variety to your mixes. You can use filter, flanger, and echo and delay, as well as auto-pan and many more. You can edit each of the parameters of your settings in real time, giving you a more in depth ability to modify your tracks sound, and still preserve the original preset. The real time looping feature gives you the option to trim your loops with the graphical interface, and you can go on an beat sync them as well. You have the option of 1/2/4/8/16 beat loops, and also selectable time frames.
With the cue points on the HDTT-5000 you can return to any point in a track with the touch of a button. You can have upto 4 hot cue points and the performance is so fast that you can really create tight mixes from them without any pause in the playback of the tracks. The touch sensitive platter gives you the chance to cue or even scratch your tracks in any direction. Its super sensitive so you can really get to the accurate spot of the track your mixing. There is even an auto BPM counter to track the beats per minute.
Some of the other features that are found in the Cortex HDTT-5000 include the instant reverse option which is a button that allows you to reverse your track without any loss of pitch or tempo. There is also a master tempo lock which locks the pitch of a track even if you change the speed. There is so much packed into this DJ turntable that it will take some time to master if you are just making the switch to digital DJing. However once you get the hang of using it, you'll be able to rock the crowds like never before.