To advertise here contact us exclusivly.
The Pioneer DDJ-SB Performance DJ Controller is a very new and one of the latest low cost DJ controllers with two channels, making it highly desirable with professional DJ's. This compact and portable controller comes bundled with Serato DJ Intro software. Its designed to have as many features as more expensive controllers, yet at a fraction of the price.
Pioneer DDJ-SB has four hot key performance pads on each side to add functions to various modes like manual loop, shift keys, hot cue, sampler and auto loop. It has very good filter fade switch to make the DJ mix smooth with transitions.
This helps one of the channels to fade down in descending volume level with one single touch on this key. The keys and switches are of hard and soft types making it more convenient for a DJ to use with soft touches and with the right pressure on the control knobs.
Main Features of Pioneer DDJ-SB Performance DJ Controller
Design:
This is sleek and trendy DJ turntable controller, set black in color. It is a rectangular shape with rounded edges. The keys layout is very easy to use by professional DJ's. The dimensions of Pioneer DDJ-SB Performance DJ Controller have a width of 19.2 inches, depth of 10.7 inches and height of 2.3 inches. Its total weight is 4.6 lbs.
USB Port:
It has USB port slot to connect with a home personal computer or with your laptop. This enables a DJ to use multi DJ software to enhance the musical experience. You can use the bundled Serato, or choose another package such as Virtual DJ.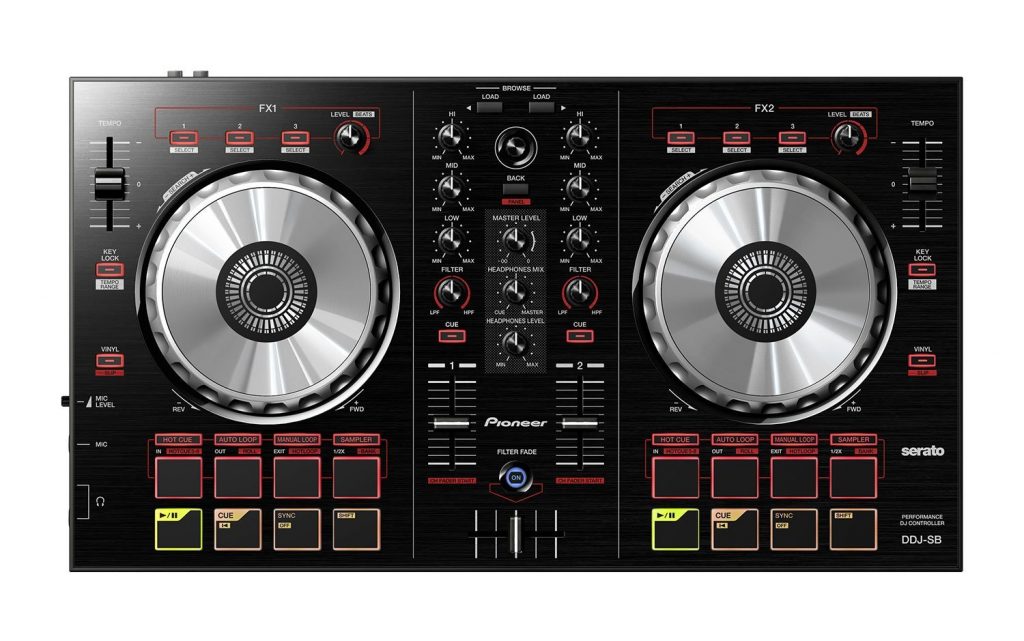 Keys and Switches:
The DDJ-SB has two large jog wheels made of aluminum for making smoother scratching effects, mixing effects and beat matching. It has 11 black variable mixer controls with white line pointers. In addition, there are the log type flat controllers for main volume and tempo controllers for beats and tones. It has one USB terminal and two headphone slots. It has four rubber pads to create mixing effects including cue's and loops, and samples.
OutPut Specification:
It has the fine frequency response ranging from the low as 20 HZ and height as 20 KHz. Its Signal to noise ratio is 90 DB. Its distortion ratio is lesser than 0.005% as harmonic type. It has hifi harmonic sound output which feels good to listen to.
The Pioneer DDJ-SB Performance DJ Controller is one of the best for amateur DJ's. It has an affordable price point, and It is easy and simple to master. This is also affordable when compared with other more expensive DJ controllers on the market. It has a great filter fade function which allows the tracks that you're playing to be mixed naturally. The way it works is by adjusting the volume on the left and right decks, and also using high pass filter parameters, which in turn when linked with the cross fader means that very different musical styles can be mixed more easily than ever before.