To advertise here contact us exclusively.
There are many digital turntables for sale, but which one is the best to use for the Mac? The Pioneer DDJ is an excellent choice for anyone who wants to control the dance floor and do it with their Apple Mac. It has Mac-compatible software included and connects to your laptop with a USB connection.
The first thing you notice about the Pioneer DDJ-WeGO, is that it comes in several funky colors. Now, this might not be an important technical feature, but it certainly does add to the personalization of digital turntables. There are 5 colors available, including red, black and green. You can easily customise the LED's on the turntable to match the same color too, or any type of color you want.
The software that comes with these digital turntables is Virtual DJ Limited Edition. It install perfect on a mac, and does also work on a pc too. You have access to many audio features and visual, as well as sound cues. You can mix upto 4 channels, and really bring your imagination out through your tracks.
Complete DJ software include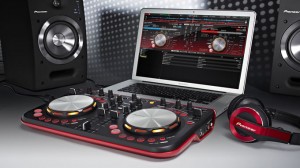 The DDJ-WeGO is a small alternative to 2 large turntables. You only have to take this turntable and your Macbook Pro to any gig, and you can fit them into a backpack. This turntable has everything you need in built, including a high quality sound card. There is a jog wheel on the turntable that allow you to control multiple effects that you put in place for your music, and control them in such a way that the dance floor will be jumping.
Its easy to mix tracks together too. Obviously one of the most important skills as a DJ. There is a pulse control feature that allows you to have visual prompts from the platters, to tell exactly when that critical mix moment is approaching. The pitch of the track can be controlled with the intensity of the light, and this makes it really easy for beatmatching.
Its easy to connect this turntable to your mac via usb, and thats the only power supply you need for it. Once you plug the speakers in you will be able to hear your dance, hip hop, trance, or whatever type of music genre you want to play.
If you like the sound of this turntable, you can see more about it here. Including what the different colors look like.