To advertise here contact us exclusivly.
If you are looking for the best turntable Dj setup that you can use with your ipad tablet, then checkout Numark iDJ Pro Professional DJ Controller. Its designed to be the best DJ controller for the iPad, and is one of the best ways to mix, and play your music at a party, or gig. All you need to do is slide your iPad into the iDJ Pro DJ setup and start mixing. Once you connect the controller to the Apple ipad you can access the looping, pitch, effects, controls and other important features through the iPad's touchscreen.
The DJ application for the Numark controller is integrated with the iDJ pro and the iTunes library which gives you direct access to all your favorite downloaded music. After you connect the iPad you can start to mix, beat match, tweak and even scratch right away. With the iDJ pro you can make great beats and mixes save them for the future, and easily share them on your social network with your friends.
If you get the Numark iDJ Pro Professional DJ Controller you can also buy the Numark controller Backpack and use it to store the controller, or even transport it safely to any gigs. You can add a 3 year warranty to the controller for a low price.
Portable & Strong Design.
With the iPad's wireless capability, it allows you to get access any song instantly. If you have Airplay or bluetooth speakers you can use the wireless compatibility to play the music through them. The iDJ pro comes with a hi-tech microphone and external device input and a XLR master output that allows you to connect it to other external devices. You can connect an MP3 player or even a CD player in order to mix in more tracks.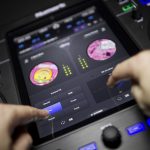 With the MC input, you can host a party and you can choose to either use a headphone of 1/8-inch or 1/4-inch connection or even use both of the inputs. This turntable is easy to use, and even if you haven't used DJ turntables before, you'll find it easy to setup. The instructions are simple to follow, you can download the user manual from the internet.
Some of the features that make the turntable one of the best include a three way capability effect, there are lots of filters and effect options, MIDI-compatibility, and the design is aluminum casing, with touch-activated platters and supports stereo output and cues music in iOS 6. If you're