To advertise here contact us exclusivly.
There are dedicated buttons, which are setup to trigger the same key related functions in Serato DJ, so you can perform your set from the controller mostly, and keep your turning to your computer to a minimum. You don't need to change the tempo, you can now play with the key shift, key sync, and the key reset buttons, which although you have access to on Serato DJ, makes it easier on the actual controller. Incase you are wondering, Serato DJ comes included with this controller.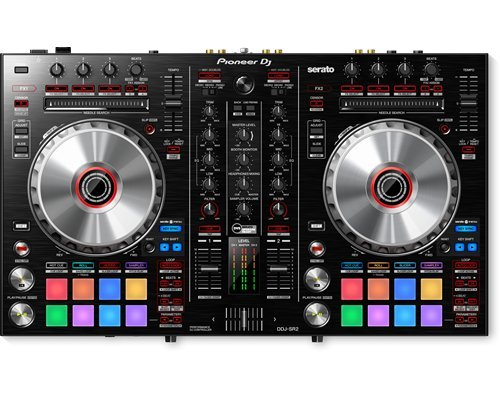 Like DJ controllers at this price range, you have a set of large multi coloured tactile performance pads, that can trigger hot cues, sampler, and roll features. With the hot cue, you can instantly jump to a point in the track you have cued up. This is a feature used by almost all DJ's that are playing sets, or creating mixes. Very rarely does a DJ mix from the start of a track. You have to be prepared to keep the crowd happy with a change of tracks, and keeping the rhythm going smoothly. The sampler allows you to store samples and loops into each button, and access these whenever you want. Perfect if you want to drop those hype sound effects while you play.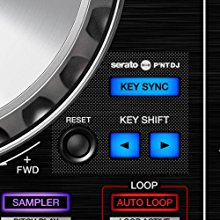 Now you might be wondering, ok, this is a great controller, its new out, and is packed with more features we will go on and discuss, but importantly, how easy is it to get around and move the controller if you are playing somewhere where you have to take your equipment? Well, the DDJ-SR2 is built lightweight, and has easy grab handles at the side. You can power the controller via either AC, or USB power. The SR2 is 18% lighter than the previous model.
There are balanced XLR outputs that let you connect a PA system. This allows you to set up speakers that will rock the house, and have everyone feeling the bass through their feet. There are also 2 master outputs that allow you to monitor your own mixing. If you have a pair of turntables, you can even just use the SR2 as a mixer, just connect the line and phono inputs.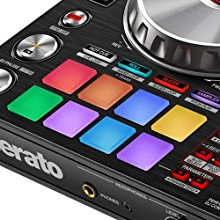 The most important parts are the jog wheels. These are used for finding the right part of the track, and getting ready to mix it in with the previous one. These jog wheels are low latency, which means there is very little time between when you actually use them, translated to the sound output. Its instantaneous. Even the most well tuned ear won't pick up any delay. This makes it even better when you are scratching too. Accuray and fast response times is what these jog wheels have been designed for. As a compliment to the jog wheels, there is also needle search, which is a feature that allows you to touch the controller, and jump to any part of the track with one touch. It's a touch sensitive strip, and makes a great compliment if you need to jump ahead large sections of track, to find the right part.
Overall, the Pioneer DDJ-SR2 will get even the most experienced DJ's excited, packed with high end features at a mid range price, it might be too good to be true, but Pioneer has created something excellent here.