To advertise here contact us exclusively.
The Pioneer DDJ-SX DJ Controller is the flagship Serato DJ software controller. This controller successfully simulates the feel of other CDJ models while offering a much wider range of options. New features of this controller include extra large jog wheels, bigger performance pads with multi-color illumination, a DJM style mixer, multiple USB ports, and a crossfader by MAGVEL. The DDJ-SX packs more technology into a DJ turntable controller than any other DJ product on the market and for the price provides an unbeatable digital music experience.
The Pioneer DDJ-SX is a four-channel controller and provides an incredible efficient setup for experienced DJs. It comes with full-size 8.1-inch aluminium jog wheels that provide an instant response and delivery a highly accurate and versatile mixing experience. In the center of each jog wheel is a new feature, the "On Jog" display which shows the playback status, the cue points and track position. The resistance of the jog wheel can also be changed using the "Jog Feeling Adjust" setting for even more improvements in accuracy and track management.
Another brand new and innovative feature on the Pioneer DDJ-SX Controller are the multi-colored and illuminated performance pads. Each of these pads comes preprogrammed with a unique effect – hot cue, roll, slicer, and sampler. These are effects that can be used in tracks and can be quickly accessed for increased music performance. Music can be modified on the go without having to access any special software or use other controllers.
Improving your DJ skills
The performance pad is also illuminated and color-coded which allows DJs to quickly determine which effect to use or which effect is currently being used. These pads are an important addition to a DJ controller and will greatly improve mixing efficiency. The large size and ease of use of these pads gives DJs the confidence they need to play great mixes and ensure a smoother performance. Slip mode also benefits DJs and will allow you to track playback during a loop, reverse, or scratch, and bring the music right back to the perfect exit point.
The Pioneer DDJ-SX Controller also comes with two USB sound cards. The purpose of this is for two computers to be connected to the controller at the same time. There is a button on the DDJ-SX controller, which will allow the DJ to switch between the computers and access different music files on each. This allows for seamless DJ handovers or even lets a DJ use more than one of their computers if they wanted to. Switching a DJ when the controller has two USB sound cards doesn't allow for any awkward gaps in the music and a perfect crossover can be achieved without disturbing the audience.
Inside the technical wizardry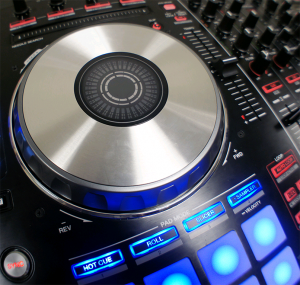 Many controllers lack this feature and problems arise when a DJ needs to be switched out. The high quality audio circuitry that comes with the Pioneer DDJ-SX controllers sets the industry standard in reliability and efficiency. The DDJ-SX comes with two built-in 24-bit sound cards and uses a Wolfson DAC that produces a signal to noise ratio of 111db. The sound quality output of this controller is incredible and results in pure sound reproduction.
This controller can be used as a 4-channel mixer for outboard players and turntables and removes the need to have 2 separate dedicated pieces of equipment. A new oscillator has been added to the right side of the mixer and provides 4 types of sound effects. These effects can be activated by the quick touch of a button and the volume can be modified while the session is ongoing.
The mixer also comes with four Sound Color FX functions. These functions are pitch, jet, echo, and filter, and are used to made quick alterations to the mix. Digital Vinyl Systems are supported using control tones to enable external vinyl players to be used while mixing. The combination of these features makes the Pioneer DDJ-SX one of the best controllers available.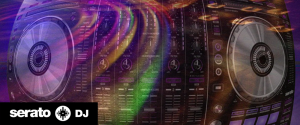 Layout of the controller
The design quality and component layout of the Pioneer DDJ-SX is what sets it apart from other mixers and DJ controllers. The fact that it can be used as a standalone mixer is reason enough for many DJS to choose this controller as their main digital media-mixing device. The entire controller is made of high quality plastics and metals that are very sturdy and can withstand the rigorous demands of DJs, and even the dreaded table knock, by any drunken dancers.
The buttons and caps are perfectly installed and will never come off during an intense DJ mixing session no matter how hard you treat them. There are few controllers or even mixers that come close to the quality of Pioneer builds and the DDJ-SX controller is no exception. For the most reliable controller that offers the best value for it's cost, the Pioneer DDJ-SX Serato DJ Controller is the only option for professional DJs or amateurs looking to break into the professional mixing market.